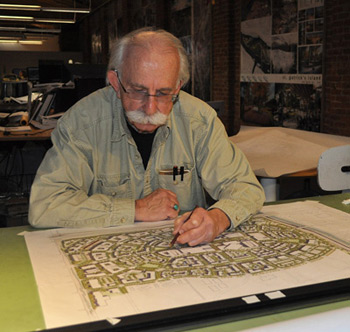 Richard C. Farley, FAIA is an urban designer specializing in dense, walkable, and mixed use projects and plans in the center of the city, along transportation/transit corridors, and in the suburbs.
He is also an artist and print maker.
Sometimes these two passions blend together in the production of hand renderings for urban design plans and projects, or in the creation of architectural, landscape architectural, or urban design ideas and forms unburdened by client objectives or real-world problem solutions.
Dick's art and print making interests range from abstract form and pattern to recognizable images.
After 14 years at Civitas Inc. (including eight years as a principal) Dick started his independent
consulting practice. Previous to Civitas, he was the Deputy Director of the Denver Planning Office in charge of
urban design for nearly ten years.He also practiced architecture in the private sector for 13 years.
Dick is well versed in all aspects of urban design, physical/land use planning, design standards/guidelines and entitlements. He has worked on many projects locally and regionally such as:
Central Platte Valley Urban Design Study
Belmar urban design plan, design standards/guidelines and entitlements in Lakewood CO
Belleview Station TOD plan and design standards and guidelines
The entitlements and design guidelines for Highland's Garden Village
Anumber of street related projects including 1st Avenue Street and streetscape design
Boulder Highway transit corridor plan
Belleview Station street and streetscape design
Belmar street and streetscape design
Bannock Street narrowing
Colfax Avenue median design within Denver's Civic Center
The decking over of a portion of I 670 in downtown Kansas City, Missouri
Dick's honors include the Denver Chapter of the American Institute of Architects Public Service Award for Outstanding Serviceto the Built Environment by an Architect in the Public Sector, and the election to the American Institute of Architects College of Fellows.
Mr. Farley has participated in numerous AIA, APA, and ULI conferences and panels, and received awards and recognition for his work.
He is a member of several community/city oriented planning groups including Golden Triangle Design Review Committee (Denver).
Professional Certifications and Experience
1999 Fellow – American Institute of Architects
2010-Present Richard Farley Urban Design, LLC, Denver, CO
1996-2010 Civitas, Inc., Denver, CO
1987-1996 City and County of Denver, Deputy Director, Planning and Development Office, Head of the Urban
Design Section
1987 Fall Semester, Adjunct Professor, Urban Design Studio, School of Architecture and Planning,
University of Colorado at Denver
1977-1987 Partner, Johnson-Hopson & Partners Architecture and Planning, Denver, CO
1975 City of Ithaca, Dept. of Community Development Ithaca, NY
1970-1974 Rochester Bureau of Planning, Rochester, NY
1967-1970 Detroit City Plan Commission, Detroit, MI
1965-1967 Ronald Sims, ARIBA, Architect, Bournemouth, England
1964-1965 Hazen and Robinson, AIA, Architects, Lincoln, NB
1959-64 University of Nebraska, Bachelor of Architecture
1974-77 Cornell University, Master of Architecture