Urban Designer, Planner, Artist.
News
Welcome.

Dick Farley is an urban designer, artist and printmaker. His art and print making interests range from abstract form and pattern to recognizable images.

Enjoy perusing my evolving body of work.
I've been fooling around with mandala-like sketches to build on my Plains Mandala painted drypoint.  They are forms that become repositories for symbols which attract me.  In a way, the 'mandalas' are forays into discovering or illustrating 'self'.  My logic is that if a symbol fascinates me and I want to explore it, then it is speaking to my unconscious.  
I have fun postulating odd towers, including their construction with lots of cranes (another favorite).   Some of these drawings date back over 35 years.  I like to imagine climbing up through them, living on top of them, experiencing the wind, and the thrill/fear of their height.  The religious headquarters drawing metaphorically expresses the torturous journey to some sacred place.  Some of them imply a defensive attitude toward the ground with perilous stairs to elevated entries.  The last drawing inverts the tower with its penthouse close to the ground, providing a surprising gesture of humility.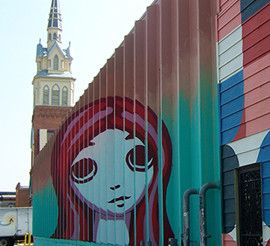 I don't know whether to love or hate some of the street art in my RiNO neighborhood. The art next to Sacred Heart is a good example of my ambivalence. On the one hand it is a clever use of the twin-tee warehouse wall construction in creating an image that changes as you approach it. On the other hand, it is an image that has its roots in juvenile anime, perhaps with meaning only for the initiated adolescent. That it is juxtaposed with the landmark Sacred Heart catholic church is another conundrum. Is it simply a coincidence – a chance encounter between the whim of an immature artist and an object of deep religious meaning? Is it an effort to capture the innocence of children linked to the innocence of faith? Or is it the reverse, a sly critique of religious faith as a naive wishfulness? My money is on the first instance. In any case, I find it disrespectful both to the church as a sacred place and as an architectural landmark, and wish that whoever funded the project had some sense of context and appropriateness.